| | | |
| --- | --- | --- |
| | Alerts and Warnings | |
With regard to the increasing number of incidents happening around us and the crime that is been reported we can SAFELY say that each day is getting worse in our good old garden city. Under this situation we will always have a question in our conscious mind which asks us AM I SAFE ? No one can give you an accurate answer to this .... crime is like an accident which we can meet up with at anytime. The best way not to meet with it is to follow the doctor's proverb "PRECAUTION IS BETTER THAN CURE" . Crime happens only if there is opportunity given to it or when there is chance for it. Watch Out for These Criminal Tricks
(1) Today I passed by a building which has an ATM machine. There was an old man looking at me. Suddenly, he called me. He said he did not know how to read, so he gave me his ATM card and asked me to help him withdraw money from the ATM machine. I answered 'NO! If you need help, ask the security to help you.' Then he said 'never mind…' and continued to find other people to help him.

REMEMBER: ATM machines have CCTVs. If you help him he will later claim that you have robbed him or stolen his ATM card. Besides, his ATM card could be a stolen one. So please be careful of these tactics.

(2) Suddenly your house lights go off. From your window you find that your neighbours still have their lights. So you go out of your house to check the Meter Box. But once you open the door, a knife will be pointing at you and preventing you from closing it. This is when you will be robbed and injured.

REMEMBER: Even though your electricity suddenly goes off, DO NOT opens your door immediately. Look around to see if there is anything unusual or if there is any noise around.

(3) This is another incident. You may have heard about it before; it is about a lady who saw a kid crying by the roadside. When she spoke to the kid, the kid told her he was lost and wanted her to take him home. The kid even gave her a paper with his house address. So she took him home. But when she rang the door bell, she had an electric shock. Later when she woke up, she was naked in an empty room.

REMEMBER: Being such a compassionate and helpful person might not be a good thing these days. Girls, please be careful. DON'T BE TOO KIND!

(4) One day, there was an old lady outside my house holding two packets of sweets. At first I thought she was our neighbour and wanted to give us these packs of sweets as a gift. But then when she spoke, I realize that she was foreigner. I could not understand what she was talking about. I guessed she must be asking for money. I sensed there was something wrong and immediately closed the door and ignored her. Later, I found she and an accomplice robbed someone else down the road.

(5) I was at the ATM machine to withdraw some money. Behind me, there was an old lady. She asked me whether I was able to withdraw my money because she said she had problem with the machine. Suddenly a small girl came up beside me. The small girl was tugging and squeezing in front of me. I thought she was just naughty and playful. But then, the small girl placed her hand inside the tray of the ATM machine where the money was being dispensed out; ready to take away my money. I sensed something wrong and immediately pushed her away. Later I realized that the small girl and the old lady worked hand in hand together. She was trying to steal my money while the old lady was trying to distract my attention by asking me questions!

REMEMBER: BE VERY CAREFUL when you are at an ATM machine and be alert. Look out for anyone suspicious around you!

(6) My parents are retired and stay at home most days. One afternoon, a young stranger went to their house and said his motorcycle had no more fuel and the petrol station was too far away, for him to push his bike there. So he asked my parents for an empty coke bottle to buy some petrol. He said he will pay RM2 for the bottle. So my mum gave one coke bottle to him. He really took out the money from his pocket, but it was a RM 100 note. He told my mum he had no small change and asked my mum to give him the change. Luckily my mum was smart. She just told him to take it for free.

REMEMBER: obviously that note is fake! Who would want to pay for RM2 for an empty coke bottle! It's very OBVIOUS that that stranger was a trickster.

(7) This happened in Bali. A newly married couple was having their honeymoon at the hotel. When both were in the changing room, the wife suddenly went missing. The husband was very anxious and went around finding her. He asked the hotel staff to help him find her. Then he thought his wife was just playing hide and seek. So he went back and waited for his wife. After a few hours, he decided to call the police. Three weeks passed and there was still no news about his missing wife. So he went back and was very disappointed and sad. A few years later, he came back to Bali, to watch a 'FREAK SHOW' in an old house. He saw a dirty and rusty metal cage. Inside there was a lady without limbs. Her body including the face was full of scars. When he had a closer look at her face, he was shocked to find out that she was his missing wife caged there and used for begging.

(8) This happened in Shanghai. A few years ago, a lady reported to the police that her cousin sister was missing in the shopping complex. But after five years, one of her friends found her cousin sister begging at the road side on one of the streets in Bangkok, Thailand. The worst thing was that her cousin sister had no more limbs and her body was tied to a lamp post with a shackle (metal chain).

(9) Let's just shorten this story. DO NOT open your house door when you hear the sound of a BABY CRYING! It might be a trap! Women in the house must be alert to this form of trick. The police said it is the work of a robber or murderer using the recording of a crying baby to attract your attention. This normally happens at night and when you are alone in the house.

(10) I read an e-mail that was sent by my friend. Her friend, known as A, went to Luo Hu Commercial City with 2 friends, B and C. Luo Hu Commercial City is known as the Shenzhen counterfeit goods distribution center. There are many people there. It's also near to the Shenzhen train station and Hong Kong's Luo Hu Port. C went to the toilet at the shopping centre while A and B waited outside. After waiting for a long time they felt uneasy and went into the toilet to look for her. When they went in, there was nobody inside. Both were scared and they called C's phone. There was no reply. So they reported to the police. The police asked them whether they had seen anybody suspicious going into the toilet. Both said there was none and it's impossible to bring a person out of the toilet without them noticing! Then I remembered seeing a cleaner pushing a trolley in, and then coming out of the toilet. The police told them that were not the first time such a thing happened there. The police suspected a gang of criminals who were always attacking women in the toilets of shopping complexes. They use cleaners to kidnap people to harvest their organs for sale.

REMEMBER: please be careful when using the toilet. Do not go to the wash room or toilet ALONE! Please at least have a partner with you.
A few tips that can definitely help everyone,

1) Avoid speaking to people whom you don't know (auto rickshaw driver, taxi drivers ....)
2) Avoid late night parties.
3) Do not mix drinking with your wonderful ability to drive.
4) Avoid taking ladies to the late night parties, if you cannot avoid then try going in groups.
5) Avoid taking short cuts when going out in the nights.
6) Avoid restaurant / dhabas in the outskirts of the city as these are places where anti social elements usually hang out.
7) Report incidents to the police if you feel it is the correct information that you are providing to them.
8) Make sure you inform any one before you visit them late at night and also specify time frames.
9) Couples in love please please avoid meeting up in lonely places.
10) Avoid arguing with auto rickshaw drivers and also when you find people who are fighting on roads(it could be a trap)
11) Avoid having personal and friendly conversation with taxi drivers, auto rickshaw drivers , Cab drivers (Specially women)
12) If the driver behaves suspiciously/ rudely try to divert the vehicle to some public place and then immediately get off. Inform the transport department and your manager.
13) Women make sure that you are carrying something to protect yourselves such as a bottle of pepper spray and also make sure that you are wearing a jacket or a shawl if you are not escorted by a man whom you know.
14) Please dress yourself decently. Never dress in such a way which may provoke some one look at you with a bad intension.

I am attaching the list of phone numbers of police stations of your respective areas in Bangalore. Please keep them handy so that it will be of some use to you some day... As the famous Theory of Charles Darwin goes " Survival of the fittest" . When there is no mercy from the assailant why then should be the same from you.

Contact Numbers of ADDITIONAL COMMISSIONER OF POLICE's (EAST DIVISION) NAME OF SUB-DIVISION & PHONE NO OFFICE

A.C.P.ULSOOR : Phone number --- 22942143
P.I.ULSOOR : Phone number --- 22942540
P.I.INDIRANAGAR : Phone number --- 22942541
P.I.H.A.L : Phone number --- 22942542
P.I.BYAPPANAHALLY : Phone number --- 22942545
P.I.MAHADEVAPURA : Phone number --- 22942546
P.I.J.B.NAGAR : Phone number --- 22942543
P.I.AIRPORT : Phone number --- 22942544
A.C.P.FRAZER TOWN : Phone number --- 22942145
P.I.FRAZER TOWN : Phone number --- 22942548
P.I.BHARATHINAGAR : Phone number --- 22942547
P.I.D.J.HALLY : Phone number --- 22942550
P.I.COMMERCIAL STREET : Phone number --- 22942549
P.I.SHIVAJINAGAR : Phone number --- 22942597
P.I.BOWRING HOSPITAL : Phone number --- 22942551
A.C.P.K.R.PURAM : Phone number --- 22942147
P.I.K.R.PURAM : Phone number --- 22942553
P.I.BANASAWADI : Phone number --- 22942552
P.I.K.G.HALLY : Phone number --- 22942556
P.I.R.M.NAGAR : Phone number --- 22942554
P.I.HENNUR : Phone number --- 22942557

Contact Numbers of ADDITIONAL COMMISSIONER OF POLICE's South Division NAME OF SUB-DIV & PHONE NO OFFICE

A.C.P.CHAMARAJPET : Phone number --- 22942165
P.I.CHAMARAJPET : Phone number --- 22942575
P.I.CENTRAL : Phone number --- 22942574
P.I.VICTORIA HOSPITAL : Phone number --- 22942560
P.I.SHANKARAPURAM : Phone number --- 22942558
P.I.N.T.PET : Phone number --- 22942559
P.I.HANUMANHANAGAR : Phone number --- 22942072
P.I.GIRINAGAR : Phone number --- 22942577
P.I.K.G.NAGAR : Phone number --- 22942578
A.C.P.JAYANAGAR : Phone number --- 22942161
P.I.JAYANAGAR : Phone number --- 22942562
P.I.BASAVANAGUDI : Phone number --- 22942057
P.I.BANASHANKARI : Phone number --- 22942564
P.I.J.P.NAGAR : Phone number --- 22942563
P.I.SUBRAMANYAPURA : Phone number --- 22942565
K.S.LAYOUT : Phone number --- 22942567
A.C.P. ADUGODI : Phone number --- 22942163
P.I.MADIVALA : Phone number --- 22942568
P.I.MICO LAYOUT : Phone number --- 22942569
P.I.ADUGODI : Phone number --- 22942573
P.I.KORAMANGALA : Phone number --- 22942570
P.I.THILAKNAGAR : Phone number --- 22942571
P.I.SIDDAPURA, B. 22942572

Contact Numbers of ADDITIONAL COMMISSIONER OF POLICE's WEST DIVISION NAME OF SUB-DIVISION & PHONE NO OFFICE RES

A.C.P.CHICKPET : Phone number --- 22942149 22942150
P.I.CHICKPET : Phone number --- 22942502 22942702
P.I.UPPARPET : Phone number --- 22942503 -
P.I.CITY MARKET : Phone number --- 22942506 22942705
P.I.KALASIPALYA : Phone number --- 22942504 22942704
A.C.P. KENGERI GATE : Phone number --- 22942151 22942152
P.I.COTTONPET : Phone number --- 22942508 22942707
P.I.KENGERI : Phone number --- 22942510 22942904
P.I.BYATARAYANAPURA : Phone number --- 22942507 22942708
P.I.J.J.NAGARA : Phone number --- 22942509 22943340
P.I.JNANABHARATHI : Phone number --- 22942513 22942712
P.I.CHANDRALAYOUT : Phone number --- 22942512 22942894
A.C.P.VIJAYANAGARA : Phone number --- 22942153 22942154
P.I.VIJAYANAGAR : Phone number --- 22942514 22942713
P.I.MAGADIROAD : Phone number --- 22942515 22942714
P.I.BASAVESHWARANAGARA : Phone number --- 22942516 22942715
P.I.KAMAKSHIPALYA : Phone number --- 22942517 22942716
P.I.K.P.AGRAHARA : Phone number --- 22942518 22942717

Contact Numbers of ADDITIONAL COMMISSIONER OF POLICE's NORTH DIVISION NAME OF SUB-DIVISION & PHONE NO OFFICE

A.C.P YESHWANTHAPURA : Phone number --- 22942157
P.I.YESHWANTHAPURA : Phone number --- 22942526
P.I.JALAHALLI : Phone number --- 22942527
P.I.R.M.C.YARD : Phone number --- 22942531
P.I.PEENYA : Phone number --- 22942532
P.I.GANGAMMANAGUDI : Phone number --- 22942530
P.I.SOLADEVANAHALLI : Phone number --- 22942529
A.C.P.MALLESWARAM : Phone number --- 22942155
P.I.SRIRAMPURAM : Phone number --- 22942520
P.I.RAJAJINAGAR : Phone number --- 22942522
P.I.MAHALAKSHMI LAYOUT : Phone number --- 22942523
P.I.SUBRAMANYANAGAR : Phone number --- 22942524
P.I.RAJAGOPALANAGARA : Phone number --- 22942525
A.C.P.J.C.NAGARA : Phone number --- 22942159
P.I.HEBBALA : Phone number --- 22942535
P.I.R.T.NAGARA : Phone number --- 22942538
P.I.YELAHANKA NEW TOWN : Phone number --- 22942637
P.I.SANJAYNAGARA : Phone number --- 22942533
P.I.VIDYARANYAPURA : Phone number --- 22942528

Contact Numbers of ADDITIONAL COMMISSIONER OF POLICE's (Central Division) NAME OF SUB-DIV & PHONE NO OFFICE

A.C.P.ULSOOR GATE : Phone number --- 22942171
P.I.ULSOOR GATE : Phone number --- 22942579
P.I.ASHOKANAGAR : Phone number --- 22942580
P.I.WILSON GARDEN : Phone number --- 22942581
P.I.S.R.NAGAR : Phone number --- 22942582
P.I.S.J.PARK : Phone number --- 22942583
P.I.VIVEKNAGAR : Phone number --- 22942584
A.C.P.SESHADRIPURAM : Phone number --- 22942169
P.I.SESHADRIPURAM : Phone number --- 22942586
P.I.HIGH GROUNDS : Phone number --- 22942587
P.I.VYALIKAVAL : Phone number --- 22942588
P.I.SADASHIVANAGAR : Phone number --- 22942589
A.C.P.VIDHANA SOUDHA : Phone number --- 22942167
P.I.VIDHANA SOUDHA : Phone number --- 22942590
P.I.CUBBON PARK : Phone number --- 22942951


WOMEN HELPLINE VANITHA SAHAYAVANI (VSV) -- CALL 1019

---------------------------------------------------------------------------------------------------------------------
Bird Flue ----> Click here for more detail

Just sent this to alert you against spreading Bird Flue....

1. It is an influenza like fever affecting birds with potential to affect humans and animals like cats and pigs
2. This disease is different from SARS and more readily spread although their symptoms are similar
3. It is caused by influenza virus
4. 15 different strains of this virus can cause the disease
5. The present outbreak is by H5N1 strain
6. Bird flu spreads not only by eating chicken, buy by other animal products too like fish, eggs, milk and all milk products
7. Doctors don't treat bird flu as several doctors at Hong Kong died by contracting bird flu from infected patients
8. This virus is new and deadly like ebola and HIV Precautions
9. Immediately turn vegan (pronounced veee gun)
10. Do not eat at Macdonalds
11. Do not buy tamiflu as tamiflu increases the infection
12. Eat only fruits and vegetables
13. Death figures will rise exponentially if diet is not controlled.
14. Mail me at research.institute.06@gmail.com for colour photographs of the patient who died.
---------------------------------------------------------------------------------------------------------------------
Mumbai: The next time you decide to use your credit card on a shopping trip, think again. The Mumbai police have busted a hitech credit card fraud which they believe is the crime of the future.

Four gadget-savvy youngsters from Andheri, two of them software engineers, got together to earn a quick buck and ended up ripping off over Rs 3 lakh of citizens' money. The foursome were arrested by the Juhu police on Tuesday. Interestingly, one of the boys was all set to leave for the United States for a job in a wellplaced computer firm.

According to the police, the mastermind of the gang is 19-year-old Leo Paul. A second-year engineering student at a Bandra college, Paul had read about a magnetic card-reading device which could store data once you swipe a card through it. Data from at least 12 such cards could be stored at a time. Paul realised that if credit cards were swiped though the machine, the personal data of a customer stored on it could be accessed. He then teamed with Akash Kamble, a 19-year-old Lokhandwala resident, and ordered the card-reader from USA, using the internet, since it's not available in India.

"The boys befriended a waiter at Kings International hotel at Juhu to take their plan ahead. Every time someone ate a meal in the hotel and paid by credit card, the waiter would discreetly swipe it through the magnetic card-reader, which is no more than 6-inches long and can be stored in the pocket,'' said investigating officer Ramesh Nangare.

Once the waiter was done, he would hand over the device to Paul who would download the data from the cards on to Kamble's personal computer. The duo would then feed the data into blank cards, available in the grey market. The cards were now ready to be used in shopping malls and theatres, or to withdraw money from an ATM.

Senior inspector Pradeep Shinde said that the boys forged information from more than 22 cards in this manner. The fraud came to light after officials from HSBC bank complained to the police. The cops quizzed customers whose cards had been duplicated and discovered they had all visited Hotel Kings International and paid by credit card. Investigators then caught the waiter who led them to the four youngsters. Paul, Kamble and the two other collegians identified as Manoj Chauhan (24) and Mahesh Valani (20), have been remanded to police custody.

NEW-AGE CRIME

A portable magnetic cardreader can store data from around a dozen cards that have been swiped through it; made in China, the device was bought on the net for Rs 18,000. The card-reader is connected to a computer and the entire data is transferred there. The data is then stored in blank cards available in the grey market. These duplicate cards can now be used to buy a fortune and also withdraw money from ATMs.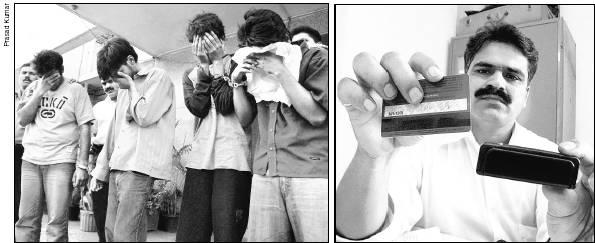 The accused (left) used a card-reader (right) to transfer the data on to a PC for making a duplicate credit card

-----------------------------------------------------------------------------------------------------------------------------------------------------------------------------
Be aware of Auto Rickshaws drivers :
Auto rickshaws and their drivers in bangalore are becoming hazardous day by day with the scoring incidents of misbehaving, mishandling of travelers and few cases of loots and burglary. Even it has come to notice that few auto drivers demand multiples of the amount shown on the meter and if not been satisfied, they use to abuse or even snatch the belongings of innocent people. Now It's high time to take precaution to this. Authorities in Bangalore have started a new drive to make auto travelling safer. They have set up cells to take complaints and have promised to do something about the complaints.

For complaints against misbehaving auto drivers in Bangalore Contact the following:

Bangalore Centre - Koramangala BDA complex - 25533525
Bangalore West - Rajajinagar Corporation Complex - 23324388
Bangalore East - Indiranagar BDA complex - 25253726
Bangalore North - Yeshwanthpur corporation Complex - 23376039
Bangalore South - Jayanagar Corporation Complex - 26630989
Alternatively you can email the authorities at transcom@kar.nic.in
http://rto.kar.nic.in/help.htm

When you call them / email them mention the auto registration no., Date, time and place where the problem occurred and the problem.

Don't know how effective the system is but its a start, do not hesitate to complain. Because if the system does work, traveling bangalore could be actually hassle free for everyone.
--------------------------------------------------------------------------------------------------------------------------------------
Learn here How to disable a STOLEN mobile phone?
To check your Mobile phone's serial number, key in the following digits on your phone:

* # 0 6 #
A 15 digit code will appear on the screen. This number is unique to your handset. Write it down and keep it somewhere safe.
Should your phone get stolen, you can phone your service provider and give them this code.They will then be able to block your handset so even if the thief changes the SIM card, your phone will be totally useless.
You probably won't get your phone back, but at least you know that whoever stole it can't use/sell it either.
If everybody does this, there would be no point in people stealing mobile phones.
Please spread this useful information around.
--------------------------------------------------------------------------------------------------------------------------------------
There is a

quack

moving around cheating people .. Let's get alerted and acknowledged.. Thanks a lot to the following friends
( Kali Charan Tripathy

,

Manash Ranjan Das

,

Santhosh Kumar Patnaik

,

Manoranjan Bidhar

,

Santhosh Kumar Patnaik

,
Manoranjan Bidhar

,

Rajat Roy

,

Niranjan Naik

,

Laxmikanta Sahoo

,
Rajani K Mohanty

,

Kundan Mishra )
who conveyed this.
Gyanendra Panda writes :
This is happening to couple of Oriya people sine few days. One young man from Orissa is telling his name as S.K.Das working as an Agriculture Engineer in BBSR . He has come to Mallya hospital after the doctors in Kalinga hospital referred him to do his wife treatment in Mallya hospital. what he did is he called to our office and told to talk with some panda of Orissa. So the telephone operator sent a mail to me stating that some Das from Orissa is trying to reach u. Then i called to the operator and told to transfer the call. Then he did like that. And now the real story started. He told me as i have mentioned earlier. And told from the morning his wife started bleeding . So for that doctor told to do a test. But i came here for three days. i stayed already nine days. So what ever money i had with me . Everything is finished . and i have 2000 rs with me , i require another Rs2700. My mother and brother will reach here in Bangalore today(Thursday).I will pay your money at 10 A.M. Then i gave him Rs 2700.He came in an auto with his wife and three children. But I do not know they are his children and wife or not. I gave him 2700 at 3 p.m . Then he called me in the evening and thanked me . and told one of his brother is working as an associate professor in I.I.T, NewDelhi in Nuclear physics. i have told him about u and have given ur number. If he calls to u and give any messages please give me. then i said ok no problem. The next day means( yesterday, wed ness day) i got a call from Delhi .He told I am Dr Arun Das working in I.I.T , Delhi as a professor....... I am staying with my wife and my mother in law. He thanked me for helping his brother. and they told they are coming today by flight (Thursday). and will reach here at 8.45p.m. Then we will have a get together. I said ok. After that he told me his mother in law wants to talk with me. Then the old lady talked with me and blessed me and told after they reach here . we will take our dinner at a time . then i said ok. then she handed over the phone to Dr Arun Das . He told me Mr Gyanendra really u have helped a lot. and now one more test is required for her. so my brother is not feeling good to tell u. so if u please give him another Rs 6700. Then he will pay the amount after my mother and brother reaches Bangalore(Thursday 10 a,m). I said ok. that's it. 10 minutes later S.K.Das called me and told Panda babu it's urgent . then i told ok. give me ur bed no . I will go there and give u the amount . then he told we have not taken admission yet . we are getting outdoor treatment ,then i said call me after 10mins bcz i had a meeting that time. so he did not call me again. And his brother from Delhi called me again at 4p.m and asked . I said i told S.K Das to give bed no but he told not yet admitted. Then he said they might have told my name ( Dr Arun Das).Ok, we r going 2moro. and he will pay ur money at 10a.m.After that I called to one of my senior . and when i started saying this, he asked is he S.K Das working as an Agriculture engineer and he has come with his wife and getting treatment in Mallya hospital. Then I came to know that this guy is a fraud. Bcz he called to my senior one month before and told the same thing he told me So he might contact u next time . so next time whenever he will contact u and will tell like this . please call him to ur office and make a call to me . So we will be able to catch him. Forward it all of ur Oriya friend through out India .Bcz this is a racket. And till now he has not called me.
Identification: He is a tall and medium black guy with a spectacle.
--------------------------------------------------------------------------------------------------------------------------------------
Dear All Please pay attention to the following

ICICI bank's net banking has a duplicate site as details given below. Please be careful while using ICICI net banking.
ICICI Bank Duplicate site-be careful

-----ICICI Bank Duplicate site ----


Genuine Site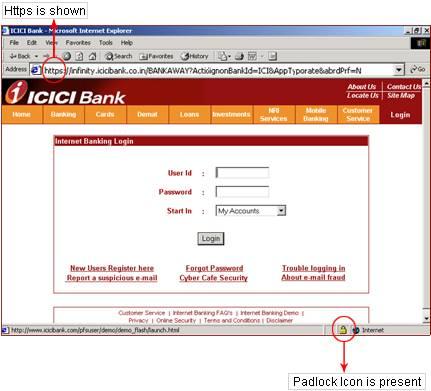 Please forward this mail to all. Its really important as almost all of our friends that are working in companies where ICICI bank is the salary bank.

--------------------------------------------------------------------------------------------------------------------------------------
Risk involved in pressing CTRL + C :
Dear All Please pay attention to the following

Please be very careful when u press ctrl + c . Here is some useful information for all.

Ctrl+C may be the most important work we do everyday. But it's not a very safe thing to do. Read on to know why.

What happens when you press Ctrl+C while you are On-line... We do copy various data by Ctrl + C for pasting elsewhere. This copied data is stored in clipboard and is accessible from the net by a combination of JavaScript's and ASP.

Just try this:
1) Copy any text by Ctrl + C
2) Click the Link: http://www..sourcecodesworld.com/special/clipboard.asp
3) You will see the text you copied was accessed by this web page.

Do not keep sensitive data (like passwords, credit card numbers, PIN etc.) in the clipboard while surfing the web. It is extremely easy to extract the text stored in the clipboard to steal your sensitive information.
--------------------------------------------------------------------------------------------------------------------------------------